[ad_1]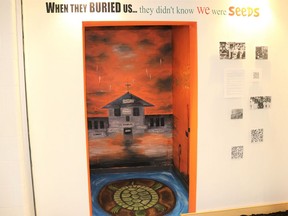 Article content
An immersive and moving art installation aimed at shining a light on the painful legacy of Canada's residential schools was unveiled at St. Patrick's Catholic High School on May 30.
Article content
Created over a period of 10 months on the interior of an abandoned elevator shaft in the school, the installation – which was made by 18 students in consultation with educators, artist Moses Lunham and Indigenous elders/storytellers Barry and Debbie Milliken – commemorates those affected by this tragic chapter in Canadian history while also providing hope and healing for generations of future students who attend St. Pat's.
Inside the installation, highly symbolic images abound, including orange walls, a turtle, flowers, the Milky Way and seeds that reflect the re-birth of Indigenous culture, linking with words of inspiration written above the entrance 'when they buried us, they didn't know we were seeds'.
Outside the display, photos from the past were mounted on the walls alongside three QR codes, which will allow passers-by to learn more about residential schools, the story of Turtle Island and star stories.
During an unveiling ceremony, scores of St. Pat's students sat in the hallway while smudging and traditional drumming took place. Prayers were offered and words were shared by students, artists, school board members and residential school survivors.
Afterwards, all participants were invited to plant seeds in soil that sat in a box in front of the installation.
Indigenous Education Lead Cortnee Goure said the installation was officially opened on May 30 to mark the one year anniversary of the discovery of the remains of 215 children buried at the former site of the Kamloops Indian Residential School in British Columbia.
Article content
The installation was a way for St. Pat's students to make sense of what they saw, Goure said, and to help educate their peers and students that would come after them.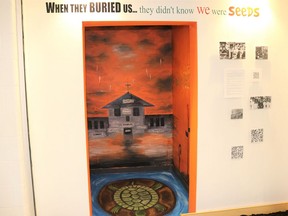 "We knew that there was a space in the school and we wanted to make an impact and leave a lasting memory," she said.
"Our youth leaders connected with Moses Lunham, an artist from Kettle & Stony Point, and elders Deb and Barry Milliken, also from Kettle & Stony Point. We came up with a plan together and decided that we wanted to have a piece that dealt with the impact of residential schools," Goure continued. "With the re-discovery of the children in the unmarked graves, the (student leaders) wanted their whole school to know, so we started with that as our premise."
After consultations, students spent months working on the room, making sure that it told a story that would leave an indelible impression on visitors, Goure said.
"We wanted to go clockwise – once you enter in the room, you see flowers that represent what was there with language, culture, family and identity. Then you see those flowers all wilting away as you approach residential schools," she said. "And as you keep going, you can see the future because the seeds are there, which connects with the quote outside the room 'when they buried us, they didn't know we were seeds'. So as you're looking, the seeds turn into flowers that are blooming and the last flower standing is language, culture, identity and family all back.
"We wanted a space where all students, staff and family, they aren't just walking by this space during the busy-ness of their day, they're going in, entering and staying as long as they like and learn."
Article content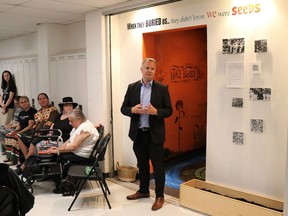 At the unveiling ceremony, Deb Milliken said the artwork unmasks the darkened past while pointing towards a positive way forward.
"To see where we've come from…we're sitting in a painful time," she said. "But something like this helps take that pain away, to know that these young people gave their all for this."
Lunham thanked the students for their efforts.
"I can see all of your hearts in this mural," he said. "This is a sad story, but it's a story we need to learn so we can grow from it."
Student artists Michael Partridge and Lexi Wilson said they were proud of the final product.
"It was a great experience, there were a lot of great minds that came together and used their creativity to piece this together," Partridge said. "I'm very proud of this – I love how it turned out."
"It was pretty interesting," Wilson said. "I was surprised by just how many students got involved in the project. They were all very respectful of it…there was a lot of engagement and sharing throughout the process, and we told and heard many stories. It was a great experience."
The unveiling of the art exhibition coincided with the school board's kick-off of National Indigenous People's History Month. Students will receive special learning lessons regarding Indigenous history throughout the June.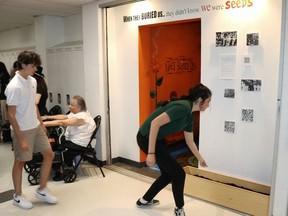 [ad_2]

Source link