ACID TEST

Music for Indoor Swimming Pools, Ingratiating Robots, Uplifting Ambient, and More
By
Miles Bowe
·
May 03, 2021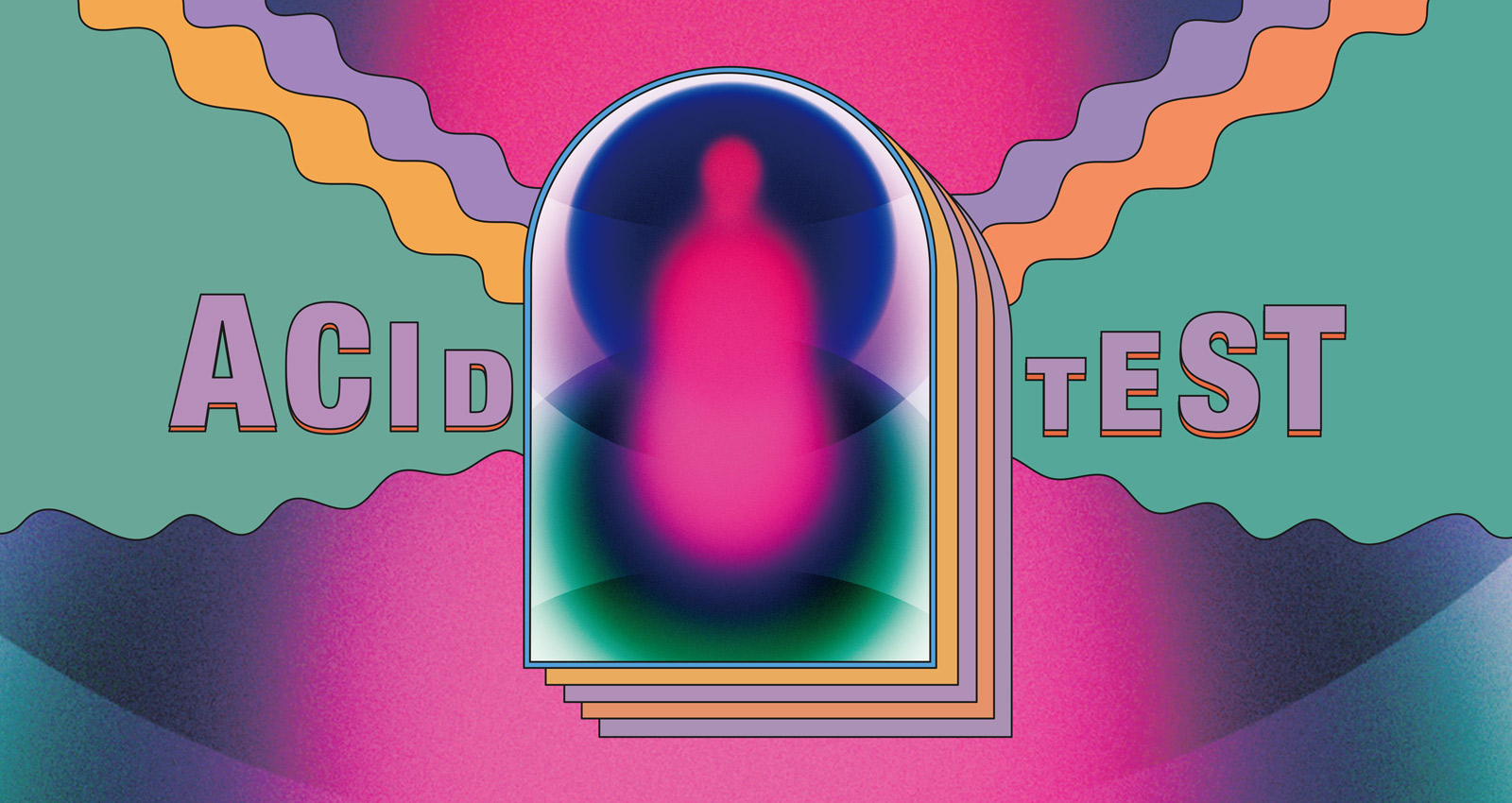 Bandcamp's outer limits continue to be a rewarding place for psychedelia, experimental club, noise, vaporwave, and the wholly uncategorizable. In each volume of Acid Test, Miles Bowe explores its far reaches to dig up hidden gems and obscure oddities. Looking back at April, we explore music for indoor swimming pools; unhinged and uplifting hip-hop; and a landmark ambient album that examines the limits of the genre with both humor and sadness.
One of Bandcamp's best kept secrets, the Japanese collective UNKNOWN ME fused environmental music, dub techno, and dreamily drifting electronics on 2017's stunning Subtropics. Now, four years later, members Yakenohara, P-RUFF, H. Takahashi, and Osawa Yudai arrive with their first proper LP, BISHINTAI, a virtually flawless ambient album that subtly (and humorously) questions the very idea of ambient music in 2021. On the album-opening track, an eager robotic voice welcomes you to the world of UNKNOWN ME, promising that the music will help align your mind and body, and help you "find your real beauty." "How's it going?" the voice interrupts again, halfway through the album. "Are you relaxing?" Synth tones gurgle pleasantly as the voice promises that the really good stuff is in the second half—"new emotional depths" are just around the corner.
These brief interruptions might feel annoying or cynical if they weren't threaded amongst such staggeringly beautiful and serene instrumental soundscapes—like the hypnotic "Open The Sense," and the steel-drum-led "Moisture of View." The wild guestlist includes footwork producer Foodman, Jim O'Rourke, and singer Lisa Nakagawa, but other than the latter's gorgeous vocalizations on "Treadmill," they simply melt into the group's intricate ensemble. This is music composed with such sincerity and virtuosity that, when juxtaposed with the blank assurances of those well-meaning robots, creates a feeling of sadness, comfort, and longing.
Ever since it first opened her 2019 album Ecstatic Computation, "Fantas" has been considered one of Caterina Barbieri's most awe-inspiring compositions. From the ominous opening drone to its supernova finish, the track presents a haunting masterclass in the kind of algorithmically composed music the Italian synthesist specializes in. The newly released Fantas Variations offers wildly imaginative reinterpretations of the piece, including Kali Malone's "Fantas for two Organs," Walter Zanetti's hypnotic rendition on electric guitar, and Bendik Giske's turbulent pairing of saxophone and voice. The range is incredible—from Evelyn Saylor, Lyra Pramuk, Annie Garlid, and Stine Janvin singing in a choral style, to Nyege Nyege Tapes artist Jay Mitta adding lightning-fast singeli polyrhythms, to Kara-Lis Coverdale's crumbling, piano-led closer "Fantas Morbida;" each surprising turn just reiterates the genius of Barbieri's original. Expand, contract, or orchestrate it any way you see fit; the devastating power of "Fantas" remains unchanged.
Pernille Zidore Nygaard's 2017 debut as PANXING, Anti gone, was a fusion of chamber music, techno, and industrial that sounded like nothing I'd ever heard. While associates in her Copenhagen music scene, such as ML Buch and Astrid Sonne, have released excellent like-minded work in the years that followed, Anti gone remained a world unto itself, that is until the surprise arrival of this follow-up. Centered around piano and vocals ranging from delicate falsetto to tough spoken word, Slowmusic explodes with textural twists and musical surprises. The intimate "Coexisting" glows with the impossible warmth of early Microphones, building to an unexpected coda with the kind of elastic bassline you'd expect to open a techno track. Each song sounds alive with subtle clatter, commentary and, in the case of "Take Care Time," a crying baby. Slowmusic is a brilliant release—an even-better follow-up to its hidden gem of a predecessor.
Claire Rousay makes gripping music with the most delicate sounds. Often, she uses distant field recordings and close-up percussive touches as texture; the challenge is in trying to unearth every detail. That effort is rewarded throughout a softer focus, where small sounds like clattering typewriters and gently swaying chimes build to wondrous moments, like the Autotuned singing that emerges halfway through the nine-minute centerpiece "Peak Chroma," or the delicate pairing of piano and tape noise on the closing "A Kind Of Promise." Featuring heartbreakingly beautiful drones worthy of fellow Austin greats, Stars of The Lid, a softer focus refines Rousay's work, while leaving its possibilities for the future feeling infinite.
The recent work of L.A. ambient artist Chuck Soo-Hoo offers reflections on time spent indoors, told from unique perspectives. March's Indoor Plant Life draws inspiration from house plants; now, that album has an exquisite companion in Stay Indoors And Swim. Described as "music for indoor swimming pools," these tracks drift amidst lush atmospherics, as distant pianos and starry synths float by. It's so relaxing, the whole thing might as well be temperature controlled. And yet, there's a longing and faint sadness to Stay Indoors and Swim that's reflected in song titles that reference elephant seals, herons, and the Channel Islands—all familiar touchstones of the Southern California coast that, here, feel further away than ever.
Hausu Mountain co-founder Mukqs and the Chicago rapper Sharkula stage a welcome reunion on Take Caution On The Beach, a follow-up to their wonky and wonderful 2019 album Prune City. The two are a perfect match; Sharkula's spiraling freestyles land on funny punchlines, timely observations, and positive reinforcements as he steadily rides Mukqs' spaced-out grooves and rubbery drums. The ongoing chaos of the pandemic is a recurring lyrical subject, but listening to Take Caution provides relief. Covid is no match for the power of friendship—or the occasional poop joke.