LISTS

Music That Lives With You: Japanese Environmental Music on Bandcamp
By
Shy Thompson
·
Illustration by
Butt Studio
·
June 14, 2021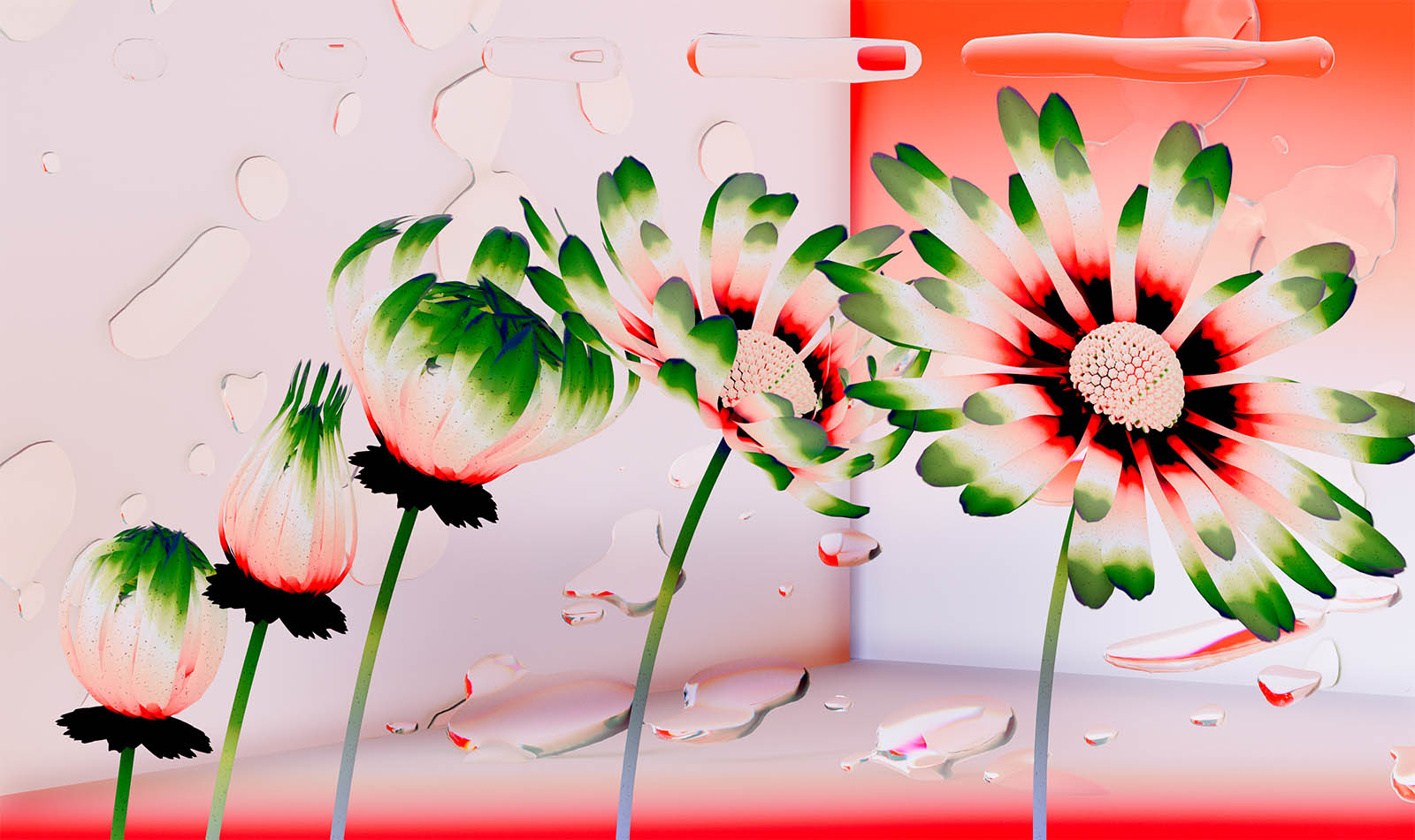 While kankyō ongaku, a Japanese term meaning "environmental music," does to some degree refer to the natural world, the word "environment" in this context is being used much more broadly. Rather than simply meaning "nature," it is meant to describe any space people inhabit—man-made or otherwise. And it doesn't exactly mean music inspired by those spaces either, although it can. Instead, it's a term used to describe music that's made to supplement the environment in which it exists, and bring out more of its latent character. Kankyō ongaku got its start in Tokyo in the late '70s and early '80s, but you have to look a little further back to see the complete picture of its origins.
In 1917, French composer and pianist Erik Satie created the first of a series of pieces he described as "furniture music"—compositions designed to be played in the background, passively adding ambience to a room the way a tasteful decoration might. Satie's furniture music series consisted of short pieces designed to repeat indefinitely (or as long as necessary), with suggestions for the situations in which they would be best suited: "during a lunch," "in a vestibule," or "at a bistro," for example. Though Satie's conceptualization of furniture music was a bit facetious, its simple and repetitive structures preempted the minimalism movement by more than half a century, bearing a strong resemblance to the work that would come later by John Cage and Terry Riley.
Fast forward to 1975: avant-garde composer Kuniharu Akiyama—an associate of the Cage-inspired Fluxus movement, who himself composed a piece of "furniture music" for the dining hall of the 1964 Tokyo Olympics—shined a spotlight on Erik Satie's understated methods with a series of sold-out shows in Tokyo called the Complete Works of Erik Satie. A spate of Satie-themed concerts would spring up in their wake, often as cross-media events that would weave the music into works of theater, cinema, or dance; and, most notably, performances in communal spaces. Japan's national Yomiuri Shimbun newspaper, writing about this explosive interest in Satie's work, would describe it as a "quiet boom."
The quiet boom of Satie lined up nicely with the proliferation of Brian Eno's music in Japan in the late '70s. Famously, Eno said of ambient music that it "must be able to accommodate many levels of listening attention without enforcing one in particular; it must be as ignorable as it is interesting." This concept, which resonated strongly with Japanese composers of the day, is why kankyō ongaku was originally coined—to put a term to the idea of music that lives with you as much as you live with it.
The economic boom in Japan in the 1980s offered an unprecedented opportunity to musicians inspired by the philosophies of Satie and Eno. Not only were they able to get their hands on rapidly evolving technology that made electronic sounds more accessible, but the real estate bubble created an abundance of elaborate and beautiful spaces for this new music to inhabit. Arts and culture were being supported on a magnitude unlike anything in the country's history, and kankyō ongaku became a symbol of prosperity as it seeped into department stores, advertisements, and just about any places that people would gather.
These days, kankyō ongaku is experiencing its own sort of quiet boom as it explodes in popularity with Westerners via algorithms, appearing in YouTube recommendations all over the world and racking up massive view counts that have caused record labels to take notice. Following Light in the Attic's excellent Kankyō Ongaku: Japanese Ambient, Environmental & New Age Music 1980​-​1990 collection—compiled by Japanese ambient music acolyte Spencer Doran of Visible Cloaks—kankyō ongaku is finding its way into our spaces once again. The following is a musical collection of furniture that would spruce up just about any environment.
---
Satoshi Ashikawa was one of Brian Eno's earliest champions in Japan. His book and record shop, Art Vivant, was the first place in the country to stock Eno's landmark Music for Airports in 1978—the album widely credited for popularizing "ambient music" as a descriptor. Ashikawa had a long history in thinking about sound as it relates to space, having written his master's thesis at the Keio University in Tokyo on "the function of music in society." Still Way is made up of compositions for various permutations of harp, piano, vibraphone, and flute, rarely ever a note of one instrument sounding over another, creating spacious music that, in Ashikawa's own words, is "not something that would stimulate listeners, but music that should drift like smoke and become part of the environment."
Hiroshi Yoshimura
GREEN

Hiroshi Yoshimura, who has become one of the most recognizable figures of kankyō ongaku, was a scholar of sound and music that considered study to be just as important as creating, much like his close friend Satoshi Ashikawa. Throughout his long career, his music has been featured in advertisements for makeup, packed in with cosmetics purchases, on the floor of department stores, and as art installations. GREEN, which is an algorithmic favorite and a work Yoshimura considered to be one of his best, was recorded in his home studio in the mid-'80s. The album was created with a Yamaha FM synthesizer, chosen for its exceptionally clear and defined tones. Yoshimura writes for the liner notes that the title was chosen to represent "the comfortable scenery of the natural cycle."
Inoyama Land members Makoto Inoue and Yasushi Yamashita are expats from legendary new wave band Hikashu. The name of their group—a combination of Inoue and Yamashita—suggests a fictional land just beyond the boundaries of our own. Following the release of their masterpiece debut Danzindan​-​Pojidon (produced by the inimitable Haruomi Hosono, who scouted them), they were commissioned to make music for a range of strange environments, including the Museum of the Senses in Miyagi, an exhibit on slime molds in a museum of nature and science, and avant-garde theater. Their music, which uses soaring synthesized sounds in off-kilter melodies that slowly morph, is uniquely suited to be paired with unusual sensory experiences.
Composer and percussionist Yaz-Kaz comes from a unique background compared to most kankyō ongaku artists. He rose to prominence composing for experimental choreographer Tatsumi Hijikata, who was known for pioneering the style of dance known as Ankoku Butoh (meaning "dance of darkness"). Hungry for new and exciting sounds to expand his craft, Yas-Kaz went to Bali to study gamelan, inspiring Ryuichi Sakamoto and fellow percussionist Midori Takada to explore the sounds of gongs in their own work. "I find richness in instruments and in the sounds that modern music and Western music has left behind," he says of exploring the music of Balinese tradition.
The Wacoal Art Center—commonly known as the Spiral due to the seemingly gravity-defying ramp in the center of the building—was Yoshio Ojima's muse. The structure, designed by award-winning architect Fumihiko Maki and funded by the Wacoal Lingerie Company, serves as a multi-purpose community center, art gallery, and lifestyle hub for fashion. Ojima was commissioned to create two volumes of music to play within the Spiral's halls, which you can still hear if you visit it today. Wacoal would bankroll the majority of Ojima's output, resulting in a give-and-take relationship that anchored his music inextricably to the Spiral. Ojima would describe his music as being "programmed" rather than performed, a claim that nearly mirrors the feeling that the façade of the building evokes—it looks as if it could have been procedurally generated.